FAN DISASTERS! - Test and Balance
location: Nakoma Golf Club

One (1) PDh's for this Meeting

Home Page
Dear ASHRAE Members and Guests-
Last month we had a great chapter meeting, the tour of the new Madison library. Many people showed up for this great tour. We had a good turnout of students for one of our chapter's student night. Thanks to Dan Green and Carol Mori for making this happen.
For this month, it is time for our holiday party. We return to the Nakoma Country Club with a great topic on Fan Disasters! This interesting topic will be presented by Chris Braun, UW Planning and Facilities Management.
Research Promotion: There will be a raffle and excellent prizes donated by various members of our local ASHRAE chapter. It should be a great time. I look forward to seeing you there! Support ASHRAE's research promotion. It is through this fundraising where we get such great technical leadership provided by ASHRAE. Earn 1 PDH while celebrating the holidays.
Prizes: Do you have a donation or gift that can be raffled off at the party? If so, please contact Scott Scheutter SSchuetter@ecw.org before the chapter meeting. Thanks!
ASHRAE Technology Award Winner: One of our local ASHRAE, Hajime Yoshida with Affiliated Engineers, Inc., and his team were recognized for their project. The Green Technology and Enterprise Center in Plain, Wisconsin was selected as an Honorable Mention for the ASHRAE Technology Award in the category of "Other Institutional - New Category". Please reach out to him and his team and offer your congratulations!
Professional Development Hours (PDH's)
ASHRAE MEETINGS COUNT TOWARDS YOUR PROFESSIONAL DEVELOPMENT HOURS FOR THE STATE OF WISCONSIN'S 30 HOUR PDH REQUIREMENTS.

ASHRAE COMMITTEE MEMBERS AND OFFICERS GET 2 PDH'S EACH YEAR TOWARDS THE 30 HOUR MINIMUM. JOIN A COMMITTEE AND GET YOUR HOURS!
I can't wait to see you at the next chapter meeting (always the second Monday of the month).
Sharon Gould
Madison ASHRAE Chapter President 2013-14
CERTIFICATION
ASHRAE has certified more than 1,600 HVAC professionals. Are you eligible to join this elite group?
The 2014 ASHRAE Winter Conference and AHR Expo in New York City will bring together more than 55,000 attendees from around the world. All six of ASHRAE's certification exams will be administered at the conference and show on January 23, 2014.
Operations & Performance Management Professional (OPMP)
To participate in this exam administration, please submit an application by January 3, 2014 for the program in which you're interested. There will be no on-site registration and seating is limited. For eligibility requirements and applications, go to www.ashrae.org/NYCExams.
An ASHRAE certification is a distinct honor held by top professionals in HVAC&R and allied fields and is recognized as a standard of excellence worldwide. Take advantage of the opportunity to earn an ASHRAE certification while you're attending ASHRAE's Winter Conference and AHR Expo.
Society Update
ASHRAE 2014 Winter Conference
Jan. 18-22, 2014
New York City, New York
New York City's iconic skyline serves as the perfect backdrop for the 2014 Winter Conference. In one of the world's top cities for most skyscrapers—nearly 600—it's only appropriate that the Conference puts a special focus on the design, development and operation of tall buildings. And they say if you can make it in New York City you can make itanywhere, so ASHRAE is also taking a look at new and innovative international design strategies for meeting environmental, geographical and cultural factors. Join the Society—along with the ASHRAE co-sponsored AHR Expo—as it returns to the Big Apple for the 2014 Winter Conference.
Item of Interest:
The AHR Expo takes place Tuesday, Wednesday, Thursday (Jan. 21-23), vs. its traditional Monday, Tuesday and Wednesday.
Training

Use this 2 hour course to learn the energy efficiency provisions of standard 189.1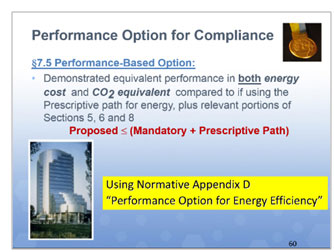 An ASHRAE certification is a distinct honor held by top professionals in HVAC&R and allied fields and is recognized as a standard of excellence worldwide. Take advantage of the opportunity to earn an ASHRAE certification while you're attending ASHRAE's Winter Conference and AHR Expo.
ASHRAE is contacting Professional Engineers to advise them of a new eLearning course offering: Standard 189.1-2011 – Energy Efficiency. Use it to refresh your knowledge or train people unfamiliar with the Energy Efficiency provisions of the Standard, and satisfy the hourly training requirements for your license in the process.
If you or your firm is involved with design or operation of high-performance buildings, you will find Standard 189.1-2011 – Energy Efficiency to be a valuable addition to your training.
Standard 189.1 defines the requirements for high-performance, green buildings. It therefore targets a significantly higher energy efficiency level than Standard 90.1.
This course, Standard 189.1-2011 for High-Performance Green Buildings – Energy Efficiency, focuses on Section 7, with supporting material from related portions within Section 10 (Construction and Plans for Operation) and relevant Appendices. Fully narrated, it clarifies those requirements using training resources from the Standard's User's Manual and related material.
Chapter Members: please note to allow your e-mails to be sent from @ashraemadison.org or @starchapterhost.com to make sure you are receiving our chapter e-mails. Add these to your "white lists" so they are not directed to non-primary e-mail folders. If you have questions, feel to contact the webmaster, adminstrator or newsletter editor. Thanks!
This web site is maintained by the Madison, Wisconsin chapter of the American Society of Heating, Refrigerating, and Air-Conditioning Engineers, Inc. (ASHRAE). It does not present official positions of the Society nor reflect Society policy. ASHRAE chapters may not act for the Society and the information presented here has not had Society review. To learn more about ASHRAE activities on an international level, contact the ASHRAE home page at http://www.ashrae.org.
Comments? Contact the Webmaster
©2012, ASHRAE Chapter 095
Madison, Wisconsin Chapter
Sponsors
Please
contact us
if you are interested in sponsoring our Chapter.
Research Promotion Contributors
The above individuals or companies have contributed $100 or more to Research Promotion
Recent Photos
November Meeting